No results
Sorry, your search did not yield any results.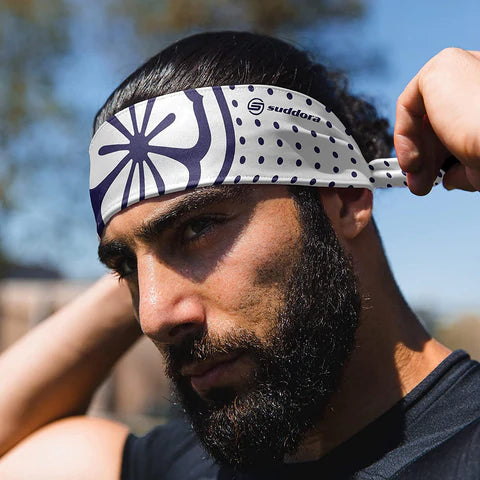 At Suddora, you can purchase premium headbands in a wide selection of styles. Looking for a classic headband? We offer old-school thick terrycloth headbands and newer options like our tie back or tapered headband. They are all great options depending on what you are shopping for.
Suddora headbands are great for both athletics and leisure. They are commonly referred to as the best headbands available. They are made to handle countless beads of sweat and make you look cool as ice. 
Sports Headbands for Athletes and Fans
Any athlete will tell you that vision and hand-eye coordination are critical in sports. You can't put a price on these basic skills that are essential to your game. It doesn't matter if you play basketball, football, tennis, or volleyball; you need your eyes to be effective. This is one of the main reasons why sports teams love using Suddora's premium sports headbands while they're playing. They keep the sweat out of your eyes and face. Not to mention they are super soft and full of style to match your outfit.
All of the products you see here offer unrivaled comfort, support, and functionality as they are crafted to help sports performers and gym-goers reach their peak performance levels every time they work out. 
Stylish Options for All Day Long
When designing our headbands, we created them so you could use them the way many people use a headband - to keep your hair back. Then we thought - why not add some fun colors and patterns in the mix! This led to the great partnerships and designs you see on this page which match with basically any outfit.
A Suddora headband can make a great addition to your T-Shirt to complete the look. Many of our customers wear them during holidays such as New Years, Independence Day, Halloween, and Christmas. Our headbands take whatever you are celebrating to the next level! Yet, they can also be worn for running errands and day-to-day use. They will not agitate your forehead or your hair.
The stock of headbands you see on this page are perfect for both men and women. They are one size fits most and in the case of our tie headbands, one size fits all.
Make Your Head a Billboard
Part of a group or league? Have an event coming up? We also allow you to customize Suddora headbands. Each year we help thousands of organizations sell their merch or create their vision for what should be on a headband.